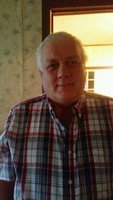 Richard Mark Huddleston
Funeral services for Richard Mark Huddleston, age 49, of Woodland will be held on Saturday, January 20, 2018, at 2:00 PM at Benefield Funeral Chapel with Rev. Mark Moore and Rev. Pete Collins officiating. Burial will follow at Zion Baptist Cemetery.
The family will receive friends at the funeral home from 4:00-8:00 PM on Friday, January 19, 2018.
Mr. Huddleston passed away Tuesday, January 16, 2018, at Tanner-East Alabama in Wedowee.
Survivors include his wife, Diane Huddleston of Woodland; one daughter, Amber Huddleston; one son, Mark Huddleston; one brother, Milton Huddleston of Ranburne; one niece; two nephews; one great-nephew; and one great-niece.
Pallbearers will be David Brannon, Charlie Huddleston, Frankie Henry, Jimmy Traylor, Bryan Cottle, Andy Harrington, and Eddie Harrington.
A Carroll County, Georgia native, Mr. Huddleston was born on April 7, 1968, the son of W. H. and Lois West Huddleston. He was Baptist by faith and worked as an operator at Integrity Cabinets. Mr. Huddleston was preceded in death by his parents and two brothers, David Huddleston and Lewis Huddleston.