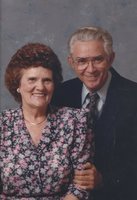 Rev. Melvin Thomas Norris
Funeral services for Rev. Melvin Thomas Norris, age 93, of Newell will be held on Tuesday, February 27, 2018, at 2:00 PM at Benefield Funeral Chapel with Rev. James Deese, Terry Sparks, and Billy Fred Lipham officiating. Burial will follow at Harmony Congregational Methodist Cemetery.
The family will receive friends at the funeral home from 5:00-8:00 PM on Monday, February 26, 2018.
Rev. Norris passed away Sunday, February 25, 2018, at his residence.
Survivors include: one daughter, Vickie Cofield of Newell; four grandchildren; six great-grandchildren; and two great-great-grandchildren.
Pallbearers will be D. J. Herring, Landon Herring, Tim Cofield, Chad Milstead, Benny Adams, and Garry Parmer.
A lifelong Newell resident, Rev. Norris was born in Porterdale, Georgia, on September 1, 1924, the son of Walter and Lura Willis Norris. He was a veteran of the United States Navy where he served in World War II and went on to retire from the Anniston Army Depot in the small arms shop. At the age of 26, Rev. Norris was called to preach and was a Congregational Methodist minister at several churches in Georgia and Alabama. He was a member of Harmony Congregational Methodist Church. Rev. Norris was a master woodworker and was known for his specialty gun stocks, and in his later years, he enjoyed making handmade walnut grandfather clocks. Rev. Norris loved being in his porch swing and waving at neighbors and friends. He will be remembered as a good man and a very cheerful giver. Rev. Norris was preceded in death by his parents; his wife of 67 years, Gladys Norris; one daughter, Brenda Parmer; one son, Donald Norris; one grandson, Justin Norris; one sister; and three brothers.