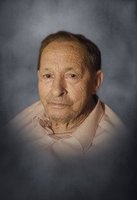 Teman Holloway
Funeral services for Teman Holloway, age 85, of Wedowee will be held on Sunday, January 17, 2021, at 2:00 PM from Benefield Funeral Chapel with Brother David Holcombe officiating. Burial will follow at Mt. Grove Baptist Church Cemetery in Wedowee, AL, with Benefield Funeral Home in charge of arrangements.
The family will receive friends at Benefield Funeral Home from 5:00 – 8:00 PM on Saturday, January 16, 2021.
Mr. Holloway passed away Thursday, January 14, 2021, at his residence.
Survivors include his wife of 65 years, Margaret Akins Holloway of Wedowee; four children, Teman Jack Holloway (Kathryn) of Wedowee, Tommy Ray Holloway of Lineville, Melynda Sue Harris (Tracy) of Carrollton, GA, and Nancy Simons (Larry) of Wedowee; 20 grandchildren; 28 great-grandchildren; one great-great-grandchild; two sisters, Viola Mitchell of Lanett and Dorothy Dewberry of Wedowee; and three brothers, Rayford Holloway of Wedowee, Jimmy Holloway (Cindy) of Roanoke, and J. C. Holloway (Barbara Ann) of Wedowee.
Pallbearers will be Mr. Holloway's grandsons, Daniel Holloway, Kevin Holloway, Brian Holloway, Keith Holloway, Mathew Herren, Dustin Watson and Kyle Simons. Honorary pallbearers will be Mr. Holloway's great-grandsons, Jackson Holloway, Levi Holloway, Mason Blackstone, Justin Blackstone, Colin Holloway, Owen Holloway, Isaac Holloway, Kevin Baker, Nathan Screws, Danny Wood, Will Davis, Daniel Mitchell, Wyatt Mitchell, Jacob Mitchell, Alex Davis, Zach Mills, Jordan O'Neal, Hayden Herren, and Ryder Teman Mills.
A Randolph County native, Mr. Holloway was born on July 22, 1935, the son of Mathew and Lola Daniel Holloway. He was a member of Bethel West Baptist Church and was a contractor by trade. He was a member of the Civil Defense in Anniston in the 1960s. He was preceded in death by his parents; son, Jimmy Wayne Holloway; two sisters, Alice Adamson and Iola Adamson; and brother, Calvin Ray Holloway.
Online condolences may be expressed at www.benefieldfhwedowee.com.