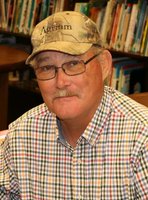 Joey "JoJo" Lipham
Graveside services for Joey "JoJo" Lipham, age 60, of Newell will be held on Saturday, April 10, 2021, at 1:00 PM at Harmony Congregational Methodist Cemetery with Bro. Brian Moore and Bro. Wendell Ford officiating and Benefield Funeral Home in charge of arrangements.
The family will receive friends at the funeral home from 5:00-8:00 PM on Friday, April 9, 2021. The family asks that anyone attending the visitation to please wear a mask and social distance.
Mr. Lipham passed away Wednesday, April 7, 2021, at UAB Hospital.
Survivors include his parents, Billy Fred and Delane Lipham of Newell; sister, Jerolene East of Wedowee; nieces, Nicole Gowens (Josh) and Noelle McCain (Colton), both of Newell; great-nephews, Paxton Gowens and Parker Gowens; great-nieces, Pazlyn Gowens and Lydia McCain; and his faithful pet, Buddy.
Pallbearers will be Steve Spratlin, Dusty Shelton, Ben Johnson, Greg Daniel, Wes Woodard, Wayne Meadows, Jay Herren, Ocean Boyd, and Shannon Richardson. Honorary pallbearers will be Billy Kilgore, Pierce Meadows, Brent Knuckolls, Josh Gowens, Colton McCain, Paxton Gowens, Parker Gowens, Pazlyn Gowens, Lydia McCain, his classmates, the men of Harmony Church, and the Newell Volunteer Fire Department.
A lifelong Newell resident, Mr. Lipham was born in Franklin, Georgia, on November 11, 1960, the son of Billy Fred and Delane Butler Lipham. He was a member of Harmony Congregational Methodist Church where he served as a Deacon, Sunday School Superintendent, and a Sunday School teacher for a number of years. Mr. Lipham was a 1979 graduate of Woodland High School, member of the Newell Volunteer Fire Department, and owner of Lipham Spreader Service for over 30 years. He also received the Randolph County Fire Association Lifetime Achievement Award for 2019-2020 and was a member of the Randolph County Cattlemen's Association. Mr. Lipham was preceded in death by his grandparents, Troy and Velma Butler and Shelley and Addie Lipham and his brother-in-law, Greg East.
Memorials may be floral or donations may be made to Harmony Congregational Methodist Church's Cemetery Fund.