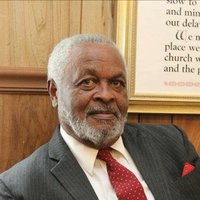 Amos Dyer
Funeral services for Amos "Ground Hog" Dyer, age 85, of Bowdon, GA, will be held on Saturday, April 17, 2021, at 11:00 AM CST at Benefield Funeral Home with Rev. Kim Northington officiating. Burial will follow at New Hope UMC Cemetery in Bowdon, GA.
The family will receive friends at the funeral home from 5:00-8:00 PM CST on Friday, April 16, 2021.
Mr. Dyer passed away Monday, April 12, 2021, at Tanner Medical Center in Carrollton, GA.
Survivors include: one daughter, Jennifer Dyer Williams of Atlanta, GA; two sons, Amos F. Dyer, Jr., of Bowdon, GA, and Michael R. Dyer (Cynthia) of Lexington, SC; niece, Kimberly L. Kight of Jonesboro, GA; ten grandchildren; three great-grandchildren; three sisters, Nora Ohara, Elizabeth Burroughs, and Christeen Robbins (Aaron), all of Atlanta, GA; and two brothers, Clarence Boyd of Atlanta, GA, and William Morris of Indianapolis, IN.
Pallbearers will be Mr. Dyer's friends and family.
A Villa Rica native, Mr. Dyer was born on March 27, 1936, the son of McKinley and Vinnie Heflin Boyd. He was a member of Union Hill Baptist Church and was a self-employed appliance salesman. Mr. Dyer was preceded in death by his parents; his wife, Linda Ethel Marable Dyer; two sisters and five brothers.