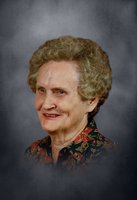 Sara Wilson Haynes
Funeral services for Sara Wilson Haynes, age 86, will be held on Thursday, May 6, 2021, at 2:00 PM at Benefield Funeral Chapel with Bro. Greg Norred, Bro. Wendell Ford, and Bro. Dave Strain officiating. Burial will follow at Liberty Grove Congregational Methodist Church Cemetery.
The family will receive friends from 5:00-8:00 PM at the funeral home on Wednesday, May 5, 2021.
Mrs. Haynes passed away Sunday, May 2, 2021, at her home.
Survivors include: two daughters, Sheila Haynes of Wedowee and Rhonda Estes (Danny) of Ranburne; one grandson, Collin Estes of Ranburne; and several nieces and nephews.
Pallbearers will be Collin Estes, Larry Wilson, Wendell Parmer, Ronald Holloway, Charles Fincher, and Frankie Wilson. Honorary pallbearers will be Roger Maddox, Mark Duffie, Don Strain, Buster Hurst, Stan Weber, Darrell McManus, and Kenneth Smith.
A lifetime resident of Wedowee, Mrs. Haynes was born in Randolph County on June 18, 1934, the daughter of Thomas Clinton and Jessie Benefield Wilson. She was a member of Liberty Grove Congregational Methodist Church where she taught Sunday School at different times. She was a graduate of Woodland High School and a member of the New Hope Women's Home Demonstration Club.
Mrs. Haynes enjoyed going on many trips with the Randolph County Cooperative Extension Service over the years. She loved her community and it tickled her when people called her the Mayor of New Hope. She loved giving; especially to the elderly. Mrs. Haynes spread her love throughout the community with her homemade goodies and gifts. She loved her family. The apple of her eye was her one and only grandchild, Collin. All you had to do was mention his name and a big smile would cross her beautiful face.
Mrs. Haynes was preceded in death by her parents; her husband, Gross Haynes; sisters, Virginia Fincher and Mary Will Calhoun; and brothers, T. C. Wilson, Charlie Ford Wilson, Robert "Bob" Wilson, Sam Wilson, and Guy Wilson.
Special thanks to her caregiver, Dianne Sheppard, and to Southern Care Hospice New Beacon.
Memorials may be floral or donations may be made to the Liberty Grove WMS.