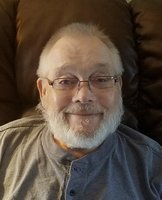 John William "Sweet William" Heard
Funeral services for John William "Sweet William" Heard, age 74, of Morrison's Crossroads will be held on Monday, May 10, 2021, at 3:00 PM at Benefield Funeral Chapel with Bro. Ed Halsey, Bro. Scott Whaley, and Bro. Phillip Heard officiating. Burial will follow at Union Baptist Cemetery.
The family will receive friends at the funeral home from 1:00-3:00 PM before services begin on Monday.
John passed away Thursday, May 6, 2021, at his residence surrounded by family.
Survivors include his wife, Judy Heard of Morrison's Crossroads; one daughter, Jana Heard Wilson (Bobby) of Morrison's Crossroads; two sons, Johnathan Warren Heard of Wedowee and James Judson Heard (Tammy) of Oxford; nine grandchildren, Hali Nicole Heard, Hannah Brooke Heard, Lauren Shay Heard, John Cole Heard (Abby), Garrett Phillips Heard (Brooklyn), Peyton Morris Heard, James Judson Heard, Blake McKinley Wilson, and Jacob Trent Wilson; two great-grandchildren, Ansley Catherine Heard and Grayson Phillips Heard; three sisters, Kathryn Heard Peacock (Jimmy) of New Brockton, Carolyn Heard Kelley of Graham, and Miram Jane Mularz (Tony) of Enterprise; and three brothers, James Robert Heard (Carolyn) of Tampa, FL, Billy Ross Heard (Carol) of Billings, MO, and Phillip Keith Heard (Sharon) of Morrison Crossroads.
Pallbearers will be John's grandsons. Honorary pallbearers will be Drew Heard, Scottie Whaley, Mike Bates, Matt Robinson, Shay Holliday, Scott Chapman, Sam Smith, Derrick Huey, and Martin Hendrix.
A Wedowee native, John was born on August 11, 1946, the son of James Arthur and Myrtle Bates Heard. He was a Randolph County High School graduate of 1964 and served in the United States Army during the Vietnam conflict. John was a member of Union Baptist Church and retired from the Anniston Army Depot in Artillery. He was active in the Randolph County youth football and baseball programs for 17 years. John was preceded in death by his parents and an infant brother.
The family would like to extend a special thank you to Compassus Hospice and Tabitha Chappell.
Memorials may be floral or donations may be may to the Union Baptist Church Cemetery Fund c/o Wayne Wortham at 8137 County Road 82, Wedowee, AL 36278.