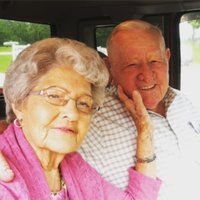 Marylene Harvel Nelson
Marylene Harvel Nelson, age 90, of Wedowee passed away Monday, May 17, 2021, at her home surrounded by family.
She is survived by one daughter, Judy Graham (Terry) of Wedowee; one son, Barry Nelson of Wedowee; one granddaughter, Brooke Bayliss (Scott) of Wedowee; one brother, Bill Harvel (Judy) of Roanoke; sister-in-law, Evelyn Harvel of Alex City; and several nieces and nephews.
A lifelong Wedowee resident, Mrs. Nelson was born in Heflin, Alabama, on December 29, 1930, the daughter of W. C. and Myrtis Dodson Harvel. She was a member of Levens Baptist Church and worked as a winder operator at Handley Mills. Mrs. Nelson was preceded in death by her parents; her husband, Carl Nelson, Jr.; brother, Bob Harvel; sister, Reba Rampy; and an infant brother.
The family would like to thank Mrs. Nelson's caregivers and Compassus Hospice for everything they did for our loved one.
A memorial service honoring Carl Nelson, Jr., and Marylene Harvel Nelson will be held on Friday, May 21, 2021, at 2:00 PM at Benefield Funeral Chapel with Rev. Terry Graham officiating. Burial will follow at Levens Baptist Church Cemetery.
The family will receive friends at the funeral home from 12:00-2:00 PM on Friday before services begin.
In lieu of flowers, donations may be made to Levens Baptist Church at P.O. Box 1058, Wedowee, AL 36278.