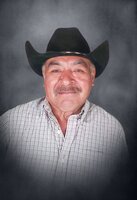 Ramon Hernandez
Funeral services for Ramon Hernandez Antonio, age 67, of Woodland will be held on Saturday, October 2, 2021, at 3:30 PM at Benefield Funeral Chapel with Pastor Donnie officiating.
The family will receive friends at the funeral home from 3:00-3:30 PM on Saturday before services begin.
Mr. Antonio passed away Tuesday, September 28, 2021, at Citizens Hospital in Talladega, Alabama.
Survivors include: one daughter, Lacy Hernandez of Woodland; four sons, Manuel Hernandez, Ramon Hernandez, Ramon Rucoba, and David Hernandez, all of Woodland; 11 grandchildren; 5 great-grandchildren; three sisters, Leobarda Hernandez Antonio, Celsa Hernandez Antonio, and Prudencia Hernandez Antonio; and three brothers, Flavio Hernandez Antonio, Catarino Hernandez Antonio, and Ciro Hernandez Antonio.
A San Luis Potosi, Mexico native, Mr. Antonio was born on April 7, 1954, the son of Tomas Hernandez and Epifania Antonio. He was Christian by faith.