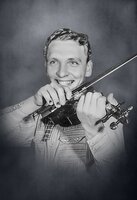 Joe D "Curly" Hayes, Jr.
Funeral services for Joe D. "Curly" Hayes, Jr., age 90, of Woodland will be held on Friday, January 7, 2022, at 11:00 AM at Benefield Funeral Chapel with Bro. Scott Whaley, Sis. Carolyn Hanner, and Bro. Larry Conger officiating. Burial will follow at Highway Memory Gardens.
The family will receive friends at the funeral home from 4:30-7:00 PM on Thursday, January 6, 2022.
Mr. Hayes passed away Tuesday, January 4, 2022, at his home.
Survivors include two daughters: Teresa McDaniel (Kenny) and Kathy Shaver (Tim), both of Woodland; one son, Stephen Hayes (Darla) of Ranburne; an adopted son, David Wilkerson (Cherry) of Woodland; five grandchildren; and nine great-grandchildren.
Pallbearers will be Dustin Hayes, Jody McDaniel, Timothy Elliott, Tim Shaver, Kenny McDaniel, Brandon McDaniel, David Wilkerson, Stephen Hayes, Barry Snow, and Phillip McDaniel.
A Napoleon native, Mr. Hayes was born on August 3, 1931, the son of Joe D. Hayes, Sr., and Lola Smith Hayes Berryman. He was Church of God by faith and worked as a carpenter. Mr. Hayes was a United States Army veteran of the Korean conflict. He was preceded in death by his parents; his wife, Virginia Hayes; two sisters; and two brothers.