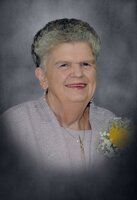 Judy Parrish
Funeral services for Judy Parrish, age 76, of Woodland will be held on Monday, February 7, 2022, at 11:00 AM at Bear Creek United Methodist Church with Bro. Jerry Wiggins, Bro. Brian Moore, Bro. Jacob Wilkerson, and Bro. Lee Parrish officiating. Burial will follow in the adjoining cemetery with Benefield Funeral Home in charge of arrangements.
The family will receive friends at the funeral home from 5:00-8:00 PM on Sunday, February 6, 2022. Mrs. Parrish will lie in state at the church from 10:30-11:00 AM, Monday, before the service begins.
Mrs. Parrish passed away Friday, February 4, 2022, at her residence.
Survivors include her husband, Gilford Parrish of Woodland; three sons, Joseph Lee Parrish (Tonya), Greggory W. Parrish (Ginger), and Richard M. Parrish (Brandi), all of Woodland; six grandchildren, Kayla Parrish, Kaleb Parrish, Carlin Parrish, Hillary Snow, Micah Rollins, and Matt Rollins; four great-grandchildren; and one brother, Gerald McManus of Woodland.
Pallbearers will be Mark McManus, Randy McManus, Guy McManus, Kaleb Parrish, David Daniel, and Donald Daniel. Matt Rollins will serve as an honorary pallbearer.
A Woodland resident, Mrs. Parrish was born on July 10, 1945, the daughter of Joseph Lewis and Alice French McManus. She was a member of Bear Creek United Methodist Church and was a homemaker. Mrs. Parrish took great joy in caring for everyone she met. She loved to cook and entertain crowds. Mrs. Parrish was preceded in death by her parents; a great-grandchild; a sister, Beatrice Gross; and a brother, Hobart McManus.