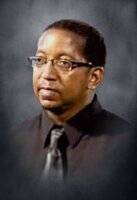 Horace Christoper ""Bebop"" Roundtree, Jr.
Funeral services for Mr. Horace C. "Bebop" Roundtree, Jr., age 52, of Wedowee will be held at 1:00 pm on Tuesday, February 15, 2022, at Benefield Funeral Chapel with Rev. Craig McClure officiating. Burial will follow at Friendship Baptist Church Cemetery.
The family will receive friends at the funeral home from 5:00 to 8:00 pm on Monday, February 14th.
Bebop departed this life on Wednesday, February 9, 2022, in Randolph County.
He leaves to cherish his memory: mother, Christine Roundtree of Wedowee; fiancé, Wanda Nunn of Woodland; son, Chris Roundtree (Jacoria) of Charleston, SC; daughter, Mariah Nunn (Terrell) of Woodland; two grandchildren, Chance and Makenze; siblings, Sharon Roundtree Phillips (Eric) of Oxford, Otis Roundtree of Wedowee and Penny (daughter Alysia) of Roanoke; his wonderful aunts, Isabell Wright, Elizabeth Trammell (Tommy Lee), Nora Ezelle, Aunt Joe (William); and a host of loving nieces, nephews, great-nieces, great-nephews, cousins and many special friends.
Pallbearers will be employees of Virginia Transportation: Corey McDonald, Stephen Boyd, John Sandlin, Leonard Foster, Shannon Team, and Wesley Stewart.
Mr. Roundtree began life on June 27, 1969, to the parentage of the late Mr. Horace C. (Bobby) Roundtree, Sr. and Christine Roundtree of Wedowee, Alabama. He was a member of Union Chapel Methodist Church where he was lay leader. He worked as an over-the-road truck driver for 22 years and found his dream job driving for Virginia Transport Hauling. He loved to make people laugh and will be forever missed.