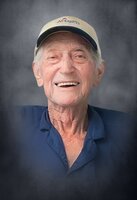 Vann Langley
Obituary
Funeral services for Melvin Vann Langley, age 86, of Wedowee, will be held on Wednesday, March 2nd, 2022, at 1:00 PM at Benefield Funeral Home with his grandson Caleb Calhoun, Bro. Allen Daniel, and Bro. Chad Murphy officiating. Burial will follow at East Napoleon Church of Christ Cemetery.
Visitation will be held on Tuesday, March 1st, from 5:00-8:00 PM at Benefield Funeral Home.
Mr. Langley passed away on Friday, February 25 at his residence.
Survivors include his wife, Shelba Foster Langley of Wedowee; two daughters, Theresa Daniel of Athens, TN and Sheri Calhoun of Wedowee; one sister, Sylvia Cork of Newnan; five grandchildren, Sandy Hipple, Joshua Daniel, Kalie Calhoun, Caleb Calhoun, and Connor Calhoun; nine great-grandchildren, Mason McNeil, Paisley Parks, Grayson Calhoun, Adah Calhoun, Alexis Stratton, Cody Marshall, Colton Marshall, Elliot Hipple, and Quinn Hipple; and two great-great-grandchildren, Aliayah Stratton and Callie Jaide Stratton.
Pallbearers will be Caleb Calhoun, Connor Calhoun, Mason McNeil, Cory McNeil, Mike Strain, and James Hudgins.
A Randolph County native, Mr. Langley was born on July 20, 1936, the son of Melvin and Evie Wilson Langley. He was a member of Oak Grove Church of Christ and retired as a sewing machine mechanic from Fire Masters. Mr. Langley was preceded in death by his parents; five siblings, Dura Burke, Ilene Butler, Runell Nichols, Rance Langley, and Ruby Bailey; and grandson, Robbie Marshall.
Memorials may be floral.
Online condolences may be expressed at www.benefieldfhwedowee.com.