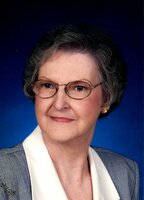 Shelby Jean McCormick
Funeral services for Shelby Jean McCormick, age 85, of Woodland will be held on Thursday, May 26, 2022, at 11:00 AM at Harmony Congregational Methodist Church with Rev. Brian Moore and Rev. Jerry Wiggins officiating. Burial will follow in the adjoining cemetery with Benefield Funeral Home in charge of arrangements.
The family will receive friends at the funeral home from 5:00-8:00 PM on Wednesday, May 25, 2022.
Mrs. McCormick passed away Monday, May 23, 2022, at her residence.
She is survived by her daughter, Ginger Parrish (Greg) of Woodland.
Pallbearers will be Kaleb Parrish, Gilford Parrish, Cade Mitchell, Kip Strain, Kison Strain, and Kyle Strain.
A Bowdon, Georgia native, Mrs. McCormick was born on November 7, 1936, the daughter of George L. and Minnie Wallace Hall. She was a member of Harmony Congregational Methodist Church and was a seamstress for Bremen-Bowdon Investment Company. Mrs. McCormick was preceded in death by her parents; her husband, Donald McCormick; four sisters; and two brothers.