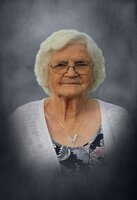 Margaret Akins Holloway
Funeral services for Margaret Akins Holloway, age 86, of Wedowee will be held on Saturday, June 18, 2022, at 10:00 AM at Benefield Funeral Chapel with Bro. David Holcombe and Bro. Randall Skinner officiating. Burial will follow at Mt. Grove Baptist Church Cemetery.
The family will receive friends at the funeral home from 5:00-8:00 PM on Friday, June 17, 2022.
Mrs. Holloway passed away Tuesday, June 14, 2022, at her home.
Survivors include: two daughters, Nancy Simons (Larry) of Wedowee and Melynda Susie Harris (Tracy) of Carrollton; two sons, Teman Jack Holloway (Kathryn) of Wedowee and Tommy Ray Holloway of Lineville; 21 grandchildren; 39 great-grandchildren with one on the way; one great-great-grandchild; three sisters, Lucille Richardson of Carrollton, Mary Craft of Wedowee, and Nell McIntosh of Bremen; and one brother, Edward Akins of Wedowee.
Pallbearers will be Larry Knight, Daniel Holloway, Brian Holloway, Keith Holloway, Mathew Herren, Dustin Watson, Kevin Holloway, and Kyle Simons. Honorary pallbearers will be Mrs. Holloway's 20 great-grandsons.
A lifelong Wedowee resident, Mrs. Holloway was born in Randolph County on December 3, 1935, the daughter of Rev. G. G. Akins and Lilly Thompson Akins. She was a member of Bethel West Baptist Church and was a housewife. Mrs. Holloway was preceded in death by her parents; her husband, Teman Holloway; one son, Jimmy Wayne Holloway; a grandson, Ronald Lee Watson; four sisters and two brothers.