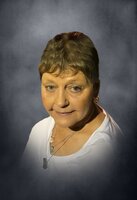 Julia Marie Snyder
Funeral services for Julia Marie Snyder, age 62, of Roanoke will be held on Saturday, June 18, 2022, at 2:00 PM at Benefield Funeral Chapel with Rickey Jackson, Bro. Kevin Turley, and Bro. Josh Kennedy officiating. Burial will follow at Hepsabah Baptist Church Cemetery.
The family will receive friend at the funeral home from 5:00-8:00 PM on Friday, June 17, 2022.
Mrs. Snyder passed away Wednesday, June 15, 2022, in Fultondale, Alabama.
Survivors include: two daughters, Misty Turley (Nichole Lowe) of Corydon, IN, and Tiffany Bolden (Chris) of Fultondale, AL; three sons, Joel Gore (Tabitha) of Carrollton, GA, Dustin Snyder (Hannah) and Tim Spears (Wanda), both of Roanoke; nine grandchildren, Halie Spears, Jamie Spears, Sebastian Lowe, Cierra Lanier, Jakob Denney, Gracie Denney, Brayden Snyder, Bryant Snyder, and Julianna Snyder; and one sister, Faye Chambers of Ranburne.
Pallbearers will be Tim Spears, Christopher Bolden, Jamie Spears, Jakob Denney, Connor Burton, and Ryan Capps.
A Heflin native, Mrs. Snyder was born on May 16, 1960, the daughter of Lewis Rudolph Turley, Sr., and Annie Louise Hanvey Turley. She was a member of Vise Grove Baptist Church and worked at Trintex in Bowdon, Georgia. Mrs. Snyder enjoyed babysitting and caring for all of her grandchildren and collecting purses and shoes. She was preceded in death by her parents; her husband, Joel Snyder; three brothers and three sisters.