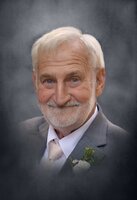 H. G. Miles
Funeral services for H. G. Miles, age 75, of Graham will be held on Thursday, July 21, 2022, at 2:00 PM at Pine Hill Christian Church with Rev. Scott Blake officiating and Maggie Edwards delivering the eulogy. Burial will follow in the adjoining cemetery with Benefield Funeral Home in charge of the arrangements.
The family will receive friends at the funeral home from 4:00-7:00 PM on Wednesday, July 20, 2022. Mr. Miles will lie in state at the church for one hour prior to services beginning on Thursday.
Mr. Miles passed away on Monday, July 18, 2022, at Tanner Medical Center in Carrollton, Georgia.
Survivors include his wife of 57 years, Shirley K. Miles of Graham; one daughter, Sandee Edwards (Greg) of Graham; three granddaughters, Morgan Phillips (Brady), Macie Spears (Colby), and Maggie Edwards; two great-grandchildren, Jackson Phillips and Charleigh Phillips; one sister, Linda Thompson of Knoxville, TN; and one brother, Wayne Messer of Woodland.
Pallbearers will be Brady Phillips, Colby Spears, Bliss Rogers, Wesley Stewart, Greg Edwards, and Dustin Messer. Jackson Phillips will serve as an honorary pallbearer.
A Woodland native, Mr. Miles was born on July 28, 1946, the son of Harvey Miles and Myrtle Messer. He was a member of the Randolph County Farmers Federation, a poultry farmer, and a retired employee from Ford Motor Company. Mr. Miles was also a member of Oak Grove Church of Christ. He loved his family and cherished the time he spent with his grandchildren and great-grandchildren. Mr. Miles was preceded in death by his parents and a son, Marty A. Miles.