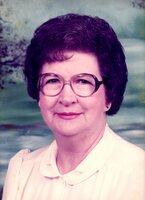 Frances Adelle Nobbley
Funeral services for Frances Adelle Nobbley, age 97, of Newell will be held on Friday, September 23, 2022, at 2:00 PM at Cavers Grove Christian Church with Rev. Michael Nobbley officiating. Burial will follow at the adjoining cemetery. With Benefield Funeral Home in charge of arrangements.
The family will receive friends at the funeral home from 5:30 - 8:00 PM on Thursday, September 22, 2022.
Mrs. Nobbley passed away Tuesday, September 20, 2022, in Roanoke, Alabama.
Survivors include: two sons, Larry Nobbley (Christie) of Ranburne and Michael Nobbley (Debbie) of Newell, AL; five grandchildren; two great-grandchildren; one great-great-grandchild; and several nieces and nephews.
Pallbearers will be Kenneth Wortham, Phillip Wortham, Nelson McCain, Edward Meadows, Chuck Chapel, and Joe Stewart.
Mrs. Nobbley was born in Bowdon, Georgia on May 7, 1925. She is the daughter of Marion Hubert and Posie Cook Ballard. Mrs. Nobbley was a member of Caver's Grove Christian Church and worked as a seamstress. She was preceded in death by her parents; husband, Vince Nobbley; one grandson, Scott Nobbley; one daughter, Ann Morrow; granddaughter, April Dawn Nobbley; and one brother, Robert Ballard.
Memorials may be floral. Online condolences may be expressed at www.benefieldfhwedowee.com.