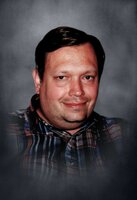 Guy Thomas "Tommy" Traylor, II
Funeral services for Guy Thomas "Tommy" Traylor, II, age 64, of Woodland will be held on Friday, September 30, 2022, at 10:00 AM at Zion Baptist Church with Bro. David Daniel officiating. Burial will follow in the adjoining cemetery with Benefield Funeral Home in charge of arrangements.
The family will receive friends at the funeral home from 6:00-8:00 PM on Thursday, September 29, 2022. Mr. Traylor will lie in state at the church for one hour prior to services beginning on Friday.
Mr. Traylor passed away Wednesday, September 28, 2022, at his home.
Survivors include: two daughters, Morgan Traylor of Lithonia, GA, and Nancy Heard (Travis) of Woodland; one son, Guy Thomas "Tray" Traylor, III, of Woodland; and two grandchildren, Payton Reese and Alice Heard.
Pallbearers will be Darrell McManus, Dale Meadows, Lynn Polin, Keith Bailey, Don Strain, and Ray Brown.
A Woodland native, Mr. Traylor was born on February 24, 1958, the son of Guy Thomas and Janie Gross Traylor. He was a member of Zion Baptist Church and worked as a teacher and a poultry farmer. Mr. Traylor was preceded in death by his parents and his wife, Debbie Morgan Traylor.
Memorials may be floral or donations may be made to the Zion Baptist Church Cemetery Fund.