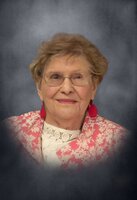 Dean Lovvorn
Born March 15, 1932 the only daughter to Millard and Ina Lee Cofield in Randolph County, Alabama. Dean passed away September 30, 2022. Visitation will be 5-8 pm October 1 at Benefield's Funeral Home. Funeral Services will be at 2 PM on October 2 at Union Baptist Church. Brother Ed Halsey officiating. Pallbearers are Justin McCain, Jody Lee Davis, Kenta Sasakado, Matt Dauphinee, Nate Ma and Ferrell Cofield. Honorary pallbearers will be Phillip Edwards, Mike Cofield, Greg Edwards and Jason Simpson.
Dean is survived by daughters, Lynn Lovvorn Smith of Newell, Alabama, Pam Lovvorn Sasakado (Toshi) of Santa Clara, California and Susan Lovvorn Davis (J.L.) of Auburn, Alabama. Surviving grandchildren, Misty, Allison, Justin, Chloe, Jody Lee and Kenta. Dean is survived by 7 great grandchildren, and 3 great-great grandchildren. Dean lived in Newell most of her life. She is preceded in death by her parents, husband Wiley Lovvorn, son and daughter, Ronald Lovvorn and Jan McCain, and, granddaughter, Jennifer Davis and 6 brothers.
Dean was a member of Union Baptist Church. She graduated Woodland High School in 1950, and enjoyed working at Wedowee Hospital for many years. Dean loved to read, and Rick Bragg was her most frequent favorite author. Traveling was another favorite pastime, and Niagara Falls, NY was a memorable trip. She enjoyed vegetable and flower gardens, and loved sitting on her porch visiting family and friends. Dean was a devoted mother and will be profoundly missed. Benefield Funeral Home of Wedowee is in charge of arrangements.