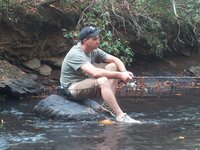 Kenneth Lacy
Obituary
Kenneth Lacy, age 50, of Delta passed away on November 2, 2022, in Valdosta, Georgia.
The family will receive friends at the funeral home from 4:00-6:00 PM on Monday, November 7, 2022. There will be a funeral service in the Benefield Funeral Chapel starting at 6:00 PM. The family will receive friends after the funeral service until 8:00 PM.
Survivors include his wife, Michelle Leucken Lacy of Delta; his daughter, Makayla Lacy of Delta; his son, Kenneth Lacy, Jr. (wife, Maggie) of Opelika; his mother, Missouri Littleton Lacy of Moorehead, KY; two grandchildren, James Dierks Lacy and Clemie Lacy, and one grandchild on the way, Opal Lacy; and two sisters, Nancy Lacy and Marlena Lacy, both of Wedowee.
A Moorehead, Kentucky native, Mr. Lacy was born on April 7, 1972, the son of Gordon and Missouri Littleton Lacy. Mr. Lacy retired from the United States Army attaining the rank of CW3 Chief Warrant Officer, Technical Expert after 20 years of service and also served five tours overseas during Operation Iraqi Freedom. Mr. Lacy loved his family and especially enjoyed spending time with his children and grandchildren. He was the owner and operator of K-Line Auction House and devoted himself to the business over the past eight years. Before immersing himself at K-Line, Mr. Lacy enjoyed hunting and fishing. He was preceded in death by his father.
In lieu of flowers, the family requests friends and family mail well wishes, memories, and reflections to P.O. Box 745, Wedowee, AL, 36278.
Online condolences may be expressed at www.benefieldfhwedowee.com.
The Lacy family would like to thank their K-Line extended family and friends for all they've done for and meant to their family. There is no one else they would have wanted to take this journey with. The love, compassion, and friendships that were established will never be forgotten.