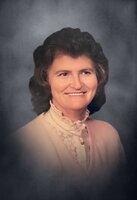 Mary Lucille Hill
Funeral services for Mary Lucille Hill, 84, of Wedowee will be held on Saturday, November 19, 2022, at 2:00 PM at Benefield Funeral Chapel with Bro. Keith Jeffers and Bro. Rayford Edmondson officiating. Burial will follow at Bethel West Baptist Church Cemetery.
The family will receive friends at the funeral home from 6:00-8:00 PM on Friday, November 18, 2022.
Mrs. Hill passed away Wednesday, November 16, 2022, at her residence.
Survivors include: one daughter, Modenia May (Rex) of Wedowee; three sons, Donald Hill (Billie Rose) of Lineville, Eddie Hill (Dottie) of Heflin, and Larry Hill (Amy Austin) of Wedowee; 20 grandchildren; 44 great-grandchildren; one great-great-grandchild; one sister, Shirley Edwards of Carrollton; sister-in-law, Sarah Hill of Delta; and many nieces and nephews.
Pallbearers will be family and grandchildren. Honorary pallbearers will be Lily Johnson, Tucker May, Harley Johnson, Kendal May, and Justin Hill.
A Troup County, Georgia native, Mrs. Hill was born on February 2, 1938, the daughter of James Issiac and Ollie Mae Robertson Clemons. She was a seamstress and a housewife and enjoyed quilting and sewing. Mrs. Hill was preceded in death by her parents; her husband, David Matthew Hill; one son, Willis Hill; one daughter, Jennifer Hill; brother, James Eugene Clemons; and sisters, Pearl Nix and Carrie Lee Gordy.
Memorials may be floral or donations may be made to Benefield Funeral Home to go toward final expenses.