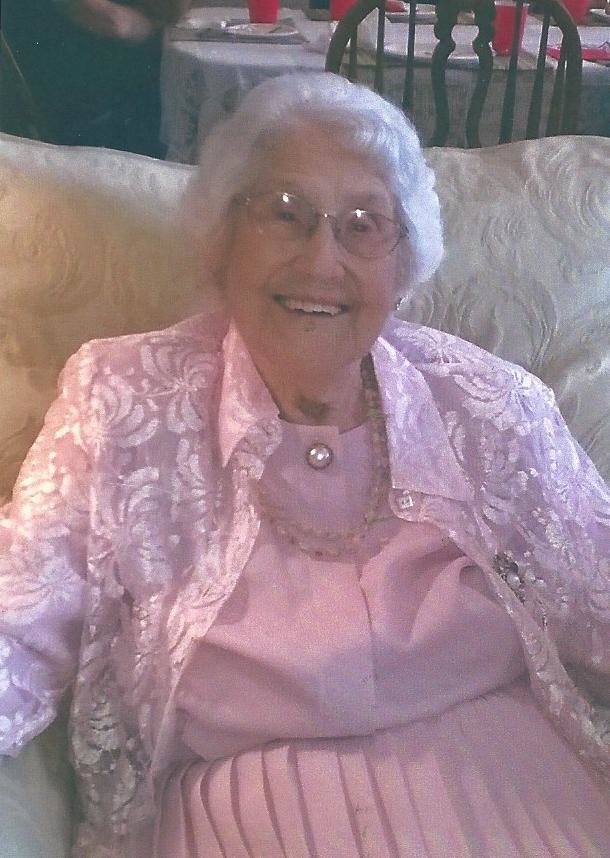 Obituary of Emily Wilson Rampy
Funeral services for Emily Geraldine (Peggy) Wilson Rampy, age 92, of Woodland will be held on Thursday, June 22, 2017, at 1:00 PM from Liberty Grove Congregational Methodist Church with Rev. Greg Norred, Rev. Bobby Jones, Rev. Danny McGouirk, and Rev. Brian Moore officiating. Burial will follow in the adjoining cemetery with Benefield Funeral Home of Wedowee in charge of arrangements.
The family will receive friends at the church on Thursday, June 22 from 10:00 AM – 1:00 PM.
God called her home on Saturday, June 17, 2017.
Survivors include: three daughters, Wynette Fink, Georgetown, DE, Peggy Durrell (husband, David) of Woodland, GA, and Jo Ann Bliss (husband, Ronnie) of Helena, AL; one son, Richard Rampy of Woodland; 10 grandchildren; 12 great-grandchildren; 11 great-great-grandchildren; two sisters, Sue Nell Rampy of Woodland, AL, and Vira Kirby of Bowdon, GA; and a host of nieces and nephews.
Pallbearers will be Corbin Durrell, Shane Rampy, Adam Durrell, Dalton Durrell, Hunter Durrell, Doug Wilson, and Brian Moore.
A Randolph County native, Ms. Rampy was born on August 15, 1924, the daughter of Robert Douglas and Loneta Mashburn Wilson. She was a member of Liberty Grove Congregational Methodist Church and worked as a clerk for A & P Grocery. Ms. Rampy was a wonderful woman who had a knack for baking and cooking, working for many years caring for elderly who actually were younger than she was, never acting her age until recently. And it wasn't by her choice, it was God's. He knew her time here was full of accomplishments and he was ready for her. Ms. Rampy was preceded in death by her parents; her husband, Virgil Stanley Rampy; son, Charles Douglas Rampy; two sisters, Elma Josephine Roan and Betty Jean Holmes; and three brothers, Robert Reed Wilson, Burvin Franklin Wilson, and Huel Wayne Wilson.
Online condolences may be expressed at www.benefieldfhwedowee.com.