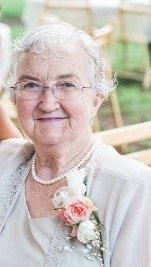 Obituary of Joanne Wilson
Funeral services for Joanne Lowe Wilson, age 84, of Woodland will be held on Tuesday, September 26, 2017, at 10:00 AM CST at Bear Creek Methodist Church with Jeff Lowe and Rev. Jacob Wilkerson officiating. Burial will follow in the adjoining cemetery with Benefield Funeral Home in charge of arrangements.
The family will receive friends at the funeral home from 5:00-8:00 PM on Monday, September 25, 2017. Mrs. Wilson will lie in state at the church for one hour prior to services beginning on Tuesday.
Mrs. Wilson passed away Saturday, September 23, 2017, at Atlanta Medical Center.
Survivors include: two daughters, Lisa Wilson Christopher (Neal) of Fayetteville, GA, and Mollie Wilson Patterson of Rincon, GA; three sons, Andy Wilson of Seabrook TX, Calvin Wilson (Joy) of Marietta, GA, and Perry Wilson (Denise) of Laurel, MD; grandchildren: Will Christopher (Erin), Ben Christopher (Amanda), Sherri Christopher, Mallorie Johnson (Gary), Hannah Kessler (Daniel), Misty Moore (Shayne), Kelly Patterson, Drew Wilson (Annaliisa), David Wilson, Myla Wilson, Carla Wilson, Ashley Massy, Lindsey Lewicki, and Sydney Lewicki; 16 great-grandchildren; and a host of nieces and nephews.
Pallbearers will be Will Christopher, Drew Wilson, Ben Christopher, David Wilson, Daniel Kessler, Shayne Moore, and Gary Johnson.
A Randolph County native, Mrs. Wilson was born on July 9, 1933, the daughter of Herbert Mitchell and Mary Ella Knight Lowe. She was a member of Bear Creek United Methodist Church and was a homemaker. Mrs. Wilson was preceded in death by her parents; her husband, Fred Calvin Wilson; one sister, Mary Milner; and three brothers, Julian, James, and Marion Lowe.
Memorials may be floral or donations may be made to Bear Creek United Methodist Church.