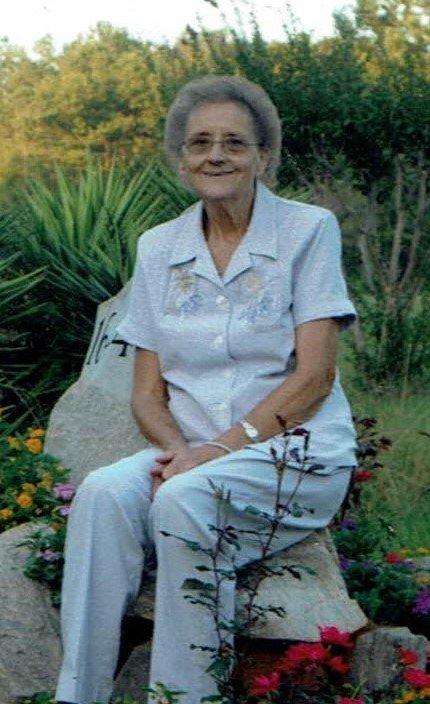 Obituary of Bertha Bailey Almond
Funeral services for Bertha Bailey Almond, age 88, of Woodland will be held on Saturday, February 2, 2019, at 2:00 PM at Mt. Carmel Church of Christ with Bro. Allan Daniel and Bro. Lee Messer officiating. Burial will follow in the adjoining cemetery with Benefield Funeral Home in charge of arrangements.
The family will receive friends at the funeral home from 4:00-8:00 PM on Friday, February 1, 2019.
Mrs. Almond passed away Wednesday, January 30, 2019, at West GA Hospice in LaGrange, Georgia.
Survivors include her daughter, Marilyn Ann Mayfield of Woodland; two sons, Richard Rigsby Almond (wife, Ramona) and Gregory Jack Almond (wife, Teresa), both of Woodland; nine grandchildren, Misty Jennings, Todd Almond, Tori Ledbetter, Tara Yarbrough, Crystal Bassett, Starla Almond, Trae Mayfield, Tritt Almond, and Tyler Almond; 17 great-grandchildren; and two great-great-grandchildren.
Pallbearers will be Trae Mayfield, Tritt Almond, Tyler Almond, Brad Yarbrough, Chan Bassett, and Tucker Ussery. Honorary pallbearers will be Todd Almond, Sheldon Jennings, Landon Jennings, Jaydon Jennings, Bryson Yarbrough, Isaac Yarbrough, Rylan Bassett, Casen Bassett, and San Stewart.
A Randolph County native, Mrs. Almond was born on March 2, 1930, the daughter of Richard "Bud" and Laura Wilson Bailey. She was a member of Mt. Carmel Church of Christ and was a homemaker. Mrs. Almond was preceded in death by her parents; her husband, Grady Jack Almond; great-grandchild, Chandler Logan Bassett; five brothers, R.Z., T. V., Audrey, Euclid, and John; and five sisters, Eva Telethia Bailey, Ruth Emma Bailey, Essie Mae Bailey, Mavis Almon, and Earla Spradlin.